What if we could start all over again? Knowing what we know now, about the needs for research and the opportunities to improve the human condition, about the power of the Internet, and about the importance of the global village, what would we want publishing to look like? How would we use instant online sharing? How would we tap into experts in other corners of the globe? How would we design a system that truly accelerates discovery for the benefit of everyone?
In this series of four posts to Upstream, I'll talk about the importance of research communication and academic publishing, how my own perspective has recently changed and what I and others feel the tenets of a modern system now should be. I'll also suggest a few steps forward for those of us involved, and make my own commitment as a would-be agent of this vision.
My hope, in telling my story just this way, is to encourage all my colleagues – in publishing, scholarly communication, research communication, etc – to consider how your own recent experiences might affect your views on our work. Do you think we're achieving all that we can? I'll look forward to hearing.
Let me say first that I originally prepared this talk for the Adelphi University (New York, USA) Lecture Series: Critical Knowledge Forum, where the Dean of the Libraries Violeta Ilik asked me to speak for Open Access Week (OA Week) in 2021. Violeta and I served on the FORCE11 Board together, 2018-2020. I was especially pleased to be invited to help close out OA Week for Adelphi because I was part of the team that started it at SPARC, along with colleagues at the Public Library of Science (Liz Allen and Donna Okubo) and Students for Free Culture (Nelson Pavlosky and Gavin Baker).
I did bear in mind the theme of Open Access Week ("It Matters How We Open Knowledge: Building Structural Equity"), but also felt the things I've recently learned and wanted to talk about fit very nicely into this discussion.
Your questions and comments are welcome. Please use the commenting function.
---
Part I. The shape and impact of research communication
For my undergraduate degree at the University of Victoria in Canada, I majored in Mediaeval Studies. Then, as now, I thrived in juggling a lot of different things. Back then, it meant juggling History, along with Latin, Greek, Art History, Religious Studies, Dante, Chaucer, and – unfortunately – Mediaeval Law. In my final year I committed my thesis to an altarpiece by Simone Martini, whose work is pictured above. Twenty-three years later, living in Cambridge, England, I am unspeakably delighted – giddy, really – to find Martini's work at our local museum, The Fitzwilliam.
Take a look. Take a close look. I'm sure you'll agree that this one piece is an impressive technical and artistic achievement.
Catherine Hoeniger, at Queen's University (also in Canada) in 1991, writes about Martini's work, saying how he "transformed traditional painting techniques" and how he strove to really accurately depict the vibrance and texture of silks being imported to fourteenth century Italy from the East (Hoeniger, C.S. (1991) "Cloth of Gold and Silver: Simone Martini's Techniques for Representing Luxury Textiles", Gesta, Vol 30, Number 2). Those who could afford to prized these luxuries, as they also prized political power and the church. So, the piece pictured here isn't only evidence of the extraordinary potential for technology (of the time) but also a vivid reflection of period events, influences and values.
Twenty-three-odd years later, I've dedicated myself to academic publishing and how we might help research objects – like articles, monographs, data, protocols and more in every field – to achieve their full potential, with technology and our own plain ingenuity. While I did a stint in the humanities and social sciences – and 17th century texts, which were very cool – my experience is weighted toward scientific journals, after 10 years with a biology journal and some years in policy advocacy.
In academic publishing, I don't think we are achieving our full potential. We're certainly not bringing to bear the full power of the technology that's available to us. Nor are we effectively representing the events, influences or values of our time.
Consider simply that the Internet has connected us – all of us, around the world. Consider that science and research affect, benefit, impact and serve the whole planet, everyone. And then consider the scope of any publishing operation, or all of them, together. They don't line up.
I think we feel stuck. And, I won't be the first person to say we feel stuck in the 17th century, when the first scientific journal was published. This wasn't just before the Industrial Revolution; the 17th century was deep in the colonial period.
So, in one sense, we're talking about our slow transition to digital and open formats. A lot of scholarship isn't available online. And, a lot of the scholarship that is available online isn't available in a way that we can get at it.
In another sense, we're talking about how Western culture of the time was bound into the system along with the pages of those first journals. We – those at the geographic, political and economic centre of academic publishing today – have been woefully slow to engage with colleagues outside.
We're certainly making steps forward, delivering more types of content, more openly. And we're doing some interesting things with the web-native environment. But we're certainly not working at the pinnacle of today's global society, despite all the tools and inspiration available to us – and despite the STM publishing industry (alone) being valued at $26.5 billion annually (according to the STM Global Brief 2021 – Economics & Market Size).
So, I'd like to talk about what we could be, what I think we should be, today – and to paint a modern vision for research communication.
It's really important, what we do here.
To frame our thinking from here, let's remind ourselves of what research communication is, what a large part of academic publishing does, and why it's important.
Research communication, illustrated well I think in the data life-cycle diagram below (again bearing in mind my own tendency toward biological sciences these days), is the process through which new insights are: made possible (through the collection of data and taking of new approaches); formed; articulated; shared; and built upon.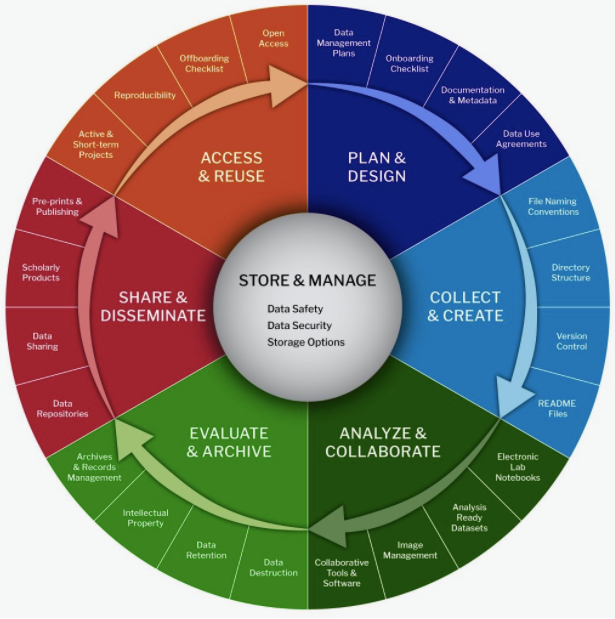 Optimising this process is critical because of the impact on every field. In Mediaeval Studies, we might be tracing the origins of mathematics and astronomy back in time, via the Arab Empire to the Greeks, and considering what we should and might understand from that knowledge. In Ecology and Environmental Studies, we're often talking about solutions to limit impact on our natural environment and support the well-being of key species. And in Biomedicine, the work is so often a matter of life and death, to do with identifying the functions of biological systems that underpin health, longevity, chronic illness and epidemics. And, remember, the impact of all this work isn't limited to the institution or town where it's conducted. Through effective research communication the work can be transmitted to every corner of the world and touch everyone who might benefit – not to mention all those who might take the work even farther ahead.
So, if that's how important research communication is, and that's the impact of what we do, how do we think it should work? How should publishing work so that it's truly reflective of the capabilities of society today?
Given my track record, readers might guess at some of the proposals I'll make – which, it's true, aren't completely new. But first let me say how my view of things has changed, and how my proposals have evolved, in light of learnings in the last couple of years – in my next post.  
Copyright © 2022 Jennifer Gibson. Distributed under the terms of the Creative Commons Attribution 4.0 License.
Comments